Apartments Croatia : Private Accommodation ISLAND PAG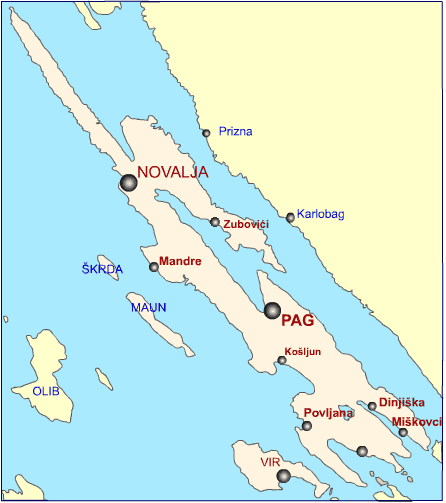 Note: Places where you can find apartments are written with red letters
ISLAND OF PAG – LACE, CHEESE AND LAMB FROM PAG
Island of Pag is one of largest tourist centers where Apartments Croatia offers reservations - bookings of rooms, apartments - private accommodation. Situated in middle part of Adriatic coast, Pag offers their tourists beautiful beaches, sun , sea decorates Adriatic as a whole. Adriatic sea is a little bit colder than for example in Dalmatia because it is situated on north also because of its many water springs. The sea is clean pleasant for bathing which makes Island of Pag favorable tourist destination.
Long tradition in embroidery among population of Island, resulted in lace from Pag to be a favorite likable product all around world. Croatian cultural tradition wouldn't became what it is today if it wasn't for lace. Lace became one of trade-marks made Pag, Adriatic Croatia known in world.
The lace is not only important trade-mark of Pag. Gourmets around world are very familiar with specialties like cheese or lamb from Pag. The cheese represents quality is valued on every table around world because production of it exists only on Pag, many come to Pag because of reason only with they are making a gourmet tourism of a kind. Cheese is not only specialties Pag offers to anyone with good taste. Delicious lamb is one of other specialties is one of most tasteful in world. Cheese, lamb, smoked ham great wine will surely enrapture all food lovers.
' Those are culinary riches that Croatia Pag offers world.

Adriatic sea is not too salty but Saltpan Pag produces sea-salt of top quality. Sea-salt from Saltpan Pag is a product which Croatia exports is appreciated around world just one of riches Adriatic sea gives out.
APARTMENTS AND PRIVATE ACCOMMODATION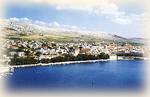 Reservations - bookings of rooms, houses - private accommodation offered on web pages by Apartments Croatia can be made directly with owners.
Places where you can find rooms, houses - private accommodation in Pag area offered by Apartments Croatia are: Novalja, Zubovici, Mandre, Pag, Kosljun, Povljana, Dinjiska, Miskovici i Vir.
Private Accommodation in Croatia