Private Accommodation RIVIERA CRIKVENICA - NOVI VINODOLSKI
CRIKVENICA AND CRIKVENICA-VINODOL RIVIERA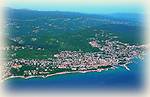 Crikvenica surrounded places, Dramalj, Selce , Jadranovo are favorite very visited tourist destinations. Adriatic sea, beautiful neat beaches as well as sun are not all that Crikvenica Riviera has in its offer for their tourists. Crikvenica surrounded places have many different activities, organized excursions rich nightlife. Many coffee bars discotheques stand in service of visitors everyone will find something for their taste liking.
Novi Vinodolski is situated south of Crikvenica, a place that is also a very popular tourist destination for visitors from continental Croatia world.
Let Croatia, Crikvenica, Crikvenica-Vinodol Riviera, Kvarner Adriatic sea be your chosen destination for this summer.
APARTMENTS AND PRIVATE ACCOMMODATION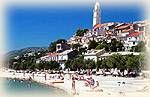 Reservations and bookings of rooms, houses - private accommodation offered by apartments Croatia can be made directly with owners.
Rich offer of the Crikvenica-Vinodol Riviera accommodation will satisfied everyone's taste.
On Crikvenica-Vinodol Riviera, apartments Croatia can offer you rooms, houses and private accommodation in places: Jadranovo, Dramalj, Crikvenica, Selce, Novi Vinodolski, Klenovica, Omisalj, Silo, Vrbnik, Krk, Punat i Baska.